Hey everybody, I just used the Wall-R-Us social media feed wall system and the program worked great; it performed exactly as advertised for $500 US dollars. The takeaway is that I used it all wrong, in the wrong way, at the wrong times, and for the wrong audience. Let me explain.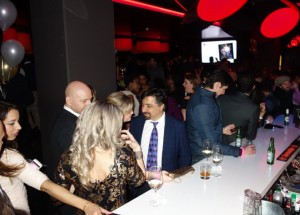 Special thanks to my friends and co-workers that made it out to the Elegant Affair Singles 2016 NYE Party at Houston Ave restaurant, 33 Yonge street in Toronto on Saturday Dec 31st. If you were present at this decidedly upscale event then you'd know how truly remarkable it was for accommodating such a diverse array of sophisticated attendees, an abundance of delicious food, complimentary 'signature' drinks, and the overall posh ambience of the venue.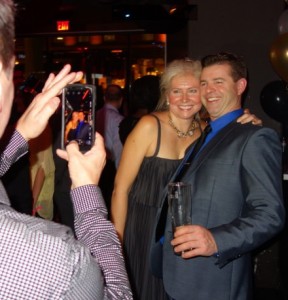 There were dozens of inflatable helium balloons punctuating gold and silver banners which came alive in the club lighting. The effect was amazing as it appeared like musical notes pulsating on sheet music'. Also remarkable was the real music.
DJ Lynx's 'custom made' dance music blends together the beats of many cultures, and different generations, and really got people gyrating on the dance floor. DJ Lynx makes this music himself; he puts classic rock tracks behind modern dance beats and it really works well to please all different ages of listeners and dancers. So it was a pretty cool party by all accounts, with lots of new faces and many Eco conscious individuals in the crowd from Waterfront Magazine – they paid / provided many elements listed above and gave all attendees free copies of the latest issue of the magazine.
The Elegant Affair, New Years' Eve Party is twelve years' old now.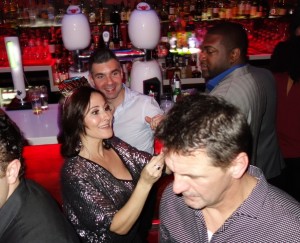 Laura Bilotta the resident matchmaker and new Single in the City relationship advice book author shared details of the party with her massive database of middle aged socialites and sold the vast majority of the tickets.
Unlike many of her other functions, Laura was present at this premier event and personally took charge of the decorations and worked the door and rocked the microphone just after midnight. Over four hundred and fifty elegantly dressed individuals attended Toronto's Best Singles New Year's Gala, which Laura has called An Elegant Affair for the last twelve years.
This year, Laura asked me to take control of the television sets in the club, primarily to advertise her new book on the screens which is now available for purchase on her site and in Amazon. And that's how it all started. I said yes because I thought it might be a great way to use and show the Hashtagio social media curation and display system in action.
What is a Social Media Feed Wall?
A social media feed wall or display happens when you license 3rd party software to seek out all fresh Twitter tweets and Instagram images with a specific hashtags and, if approved (or set as unmoderated), to display the text and images on a TV screen or project the feed on a wall. You can imagine how fun this could be? I'm sure more than half of the readers of this blog will have seen or have even personally interacted with such systems as they are present at many local tech events these days.
The collected media is displayed 'live' just a few minutes after it is published alongside other similar tagged User Generated Content. Ideally this is done set up to be used by people attending the same event, or enjoying the same destination, or performing a similar activity, and in that respect it celebrates community. But these types of programs can be made to collect and display media made by Twitter or Instagram users from across the globe for any reason…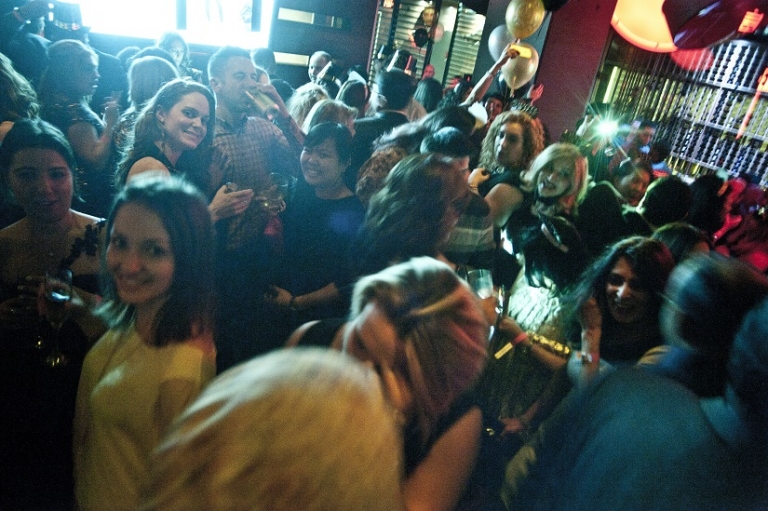 I'd used Hashtagio earlier in the summer at an annual teenage beauty pageant event and it worked well because the young contestants were eager to show the world their attire and promote their special circumstances and platforms in their quest for a crown. But Hashtagio is such a static display; the pictures don't move until the curated feed is updated. Its not made for social gatherings -its made for making website pages showing what happened by collecting everyone's pictures afterwards. So upon further consideration, I decided that I should step-it-up a notch here for Single in the City's annual New Year's Eve party, and so instead I opted to use a more dynamic program for this event.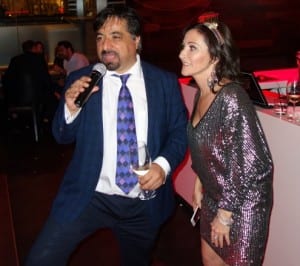 So I called a friend who gave me a special link for The WallRUs service which turned out was no longer valid. That meant If I wanted to use this platform, I'd have to pay, and so because I had lots of cool stuff to give away, and lots of different sponsor's logos to put on screens, I wanted to do it right. I had about $500 worth of prizes. In my gift bag were drink tickets, cosmetics, confections and copies of Laura's new book. The Grand Prize was a business telephone headset from Standard Telecom. With this level of sponsor participation, I knew the whole set-up had to be professionally deployed so it would look good in my pictures and reports to these business sponsors afterwards. And it was, and it did. The problem was that nobody used it.
Nobody used it because of other problems and some fundamental truths that I learned. Without further delay here's a handy list detailing exactly what I came to know, by order of importance. If you're about to deploy a WallRUs social media feed wall display at your next event, consider these half dozen knowledge nuggets that I came to know the hard way.
Is there a natural, existing social media feed just waiting to be tapped? Or do you have to make the feed? This is the crux of adoption at parties, and the number one thing I learned is that good and interesting prizing alone cannot make a hashtag popular. People at tech events love to tweet selfies of themselves with CEOs and Founders and they naturally use the hashtag of the show. Conversely, middle-aged people attending a singles' theme New Years Eve party are probably not as eager to tell their followers where they decided to hang out that night.
If running an engagement contest or incentivizing participation, put pictures of the prizes and even pics of winners in tweets that make it into the show. You must display the prizes to make it real – for some reason, and its my fault – more on this below, the pictures of the prizes never made it into the presentation, and so for many event attendees it all seemed too 'fantastic' rather than a tangible live contest offer.
Be careful where you put the display at the party – it can ruin live event real estate. A feed wall that has everyone trying to read the words on screen demands free space, and people are reluctant to stand and converse near such a thing. So, the way it worked out at Houston Ave one New Years was truly tragic. It turned out the venue only had one 'smart TV', which is another story, and so we focused on making that device work as the display wall. Unfortunately, because the restaurant still had all its tables and chairs at that time we didn't realize this area was set to become the dance floor. So, in fact we were creating a dance floor distraction. We worked real hard to ruin the lighting here, and, well it's the first thing DJ Lynx said to me when he arrived at 9pm that night. He was right. And the white screens were the worst…
Make the presentation match the party and not the business logos or the location theme. What I mean is that when we made the presentation, we used a theme with all-white backgrounds to more sympathetically match the distinctive logos of Waterfront Magazine and Single in the City. These white pages in the presentation stood out like sore thumbs. As I mentioned above, these bright screens ruined the lighting scheme in what should have been the most mesmerizing part of the venue. The lesson is that an evening party presentation should have NO white screens as they are far too blindingly bright, especially near the dance floor.
Do a tech survey that finds and MEETS the experts at the venue, and not just the equipment. When I first visited Houston Ave restaurant, two weeks before the Elegant Affair, I scrutinized the TVs on site and saw the switcher system in the staff office, and had to be content when the restaurant shift manager told me that their tech expert would be on scene on Dec 31st at 4pm, and she promised he would 'make anything I want happen'. Well the so-called expert, bless his heart, didn't know my PC laptop's video card wouldn't communicate well with the switcher, and on and on it went. We went from putting the show on ALL fourteen televisions, to just four TVs, to a one single big screen TV, the device that dominated the dance floor. The expert didn't know that area was to be the dance floor either.
Be prepared to be the sole broadcaster. I could have made the best of an increasingly bad situation if my phone hadn't died at 7pm. When I asked the bartender if I could charge my phone in her station, she gave me that look which instantly communicated to me that my device would NOT be safe in the rush to come. Coat check girl gave me the same knowing look – she just shook her head 'no' silently. And it was then I learned that modern franchise restaurants are surprisingly stingy with AC outlets by design. The outlet near the dance floor was full up and there was no space for me to plug in. So I ended up walking around with a dead phone in my pocket, unable to participate in my own interactive installation.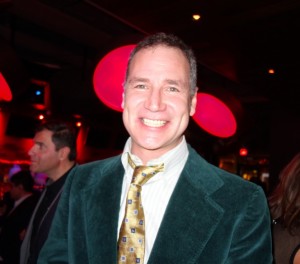 In conclusion, I'd set out with the very best intentions and accomplished the worst results. When Laura asked for her book on screen I should have just made a power point slideshow. When it was all over the Wall-R-Us social media program collected no 3rd party User Generated Content or UGC as its called, (except for what myself and the tech expert tweeted and tagged to test the program before the party, and before my phone died). #FAIL after $500 spent and with nothing to show, and yet all the same I came away smelling fresh by virtue of my candor and the quality of my friends. The event sponsors were thrilled to see their logos on screen at the party, unaware of what an obstacle the white screens were to the DJ, and how they over-illuminated the dance floor. I read once that experimental marketing media must be graded after its use, and in failure comes wisdom which paves the way to a more permanent success.